Workforce Development x Opportunity
Through a collaborative partnership with the Full Employment Council of Kansas City, MO (FEC) and The University of Missouri Kansas City (UMKC), Yoodle Education Services (YES) successfully launched the first course (Coding Academy) at the start of 2020 and is now adding two (2) new Web Developer cohorts to kick-off April 20 and 23, 2020.
The workforce development courses are structured to provide real-world training to members of the Kansas City community for in-demand career fields such as Web Development, Computer Science, Information Technology, and more.
"We have pivoted from on-campus to virtual classrooms and will continue moving forward with new classes starting right away. It is critical now more than ever that we strive to provide Kansas Citians with access to quality instruction," said Christina Davis, Director of Continuing Education at UMKC's School of Computing and Engineering.
Not only do participants receive instruction from industry-leading professionals, they are also awarded a certificate of completion issued by UMKC upon conclusion of the course.
This educational endeavor is completely debt-free to the student, including class materials, laptops, and access to the required software and even a campus parking-pass – when classes return to campus.
Even in the midst of today's turbulent times, the future is full of rewarding career opportunities and success is just on the other side.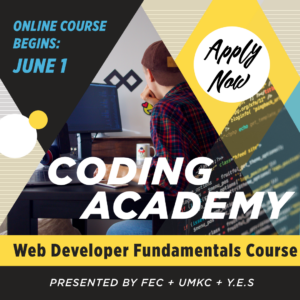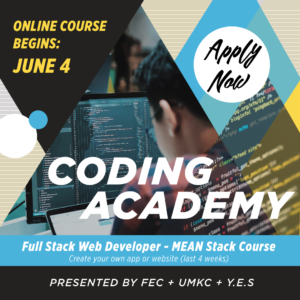 Two new courses start next month – Web Developer Fundamentals and Full Stack Web Developer Course. Capacity is limited so inquire today.
For more information or to enroll contact the FEC at (816) 471-2330 | Or visit: http://codingacademy.feckc.org/